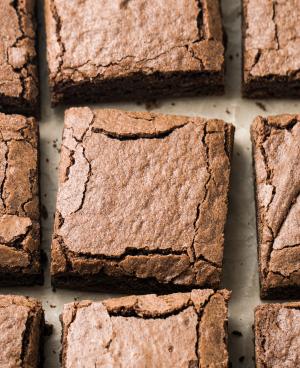 this class is being offered virtually. 
We created this class years ago to celebrate the anniversary of Zingerman's Delicatessen (they opened way back in 1982!). Learn to make our Jewish Rye bread and Black Magic brownies, old-time favorites; and our Hummingbird cake, a new favorite with pineapple, pecan, coconut, banana, and cream cheese frosting. You'll also find out what a rye sour starter is and the secrets behind our rye bread's flavor. 
You'll leave the BAKE! class with our recipes, the knowledge to recreate them at home, and everything you made in class: a rye sour starter, a loaf of Jewish Rye bread, Hummingbird cake, and Black Magic brownies.
What's different when you take this class virtually:
Please note that this class will take place over two days. On Day One, we will meet for 30 minutes to mix and discuss our rye sour starter. On Day Two, we will bake! 
What our guests have to say about this class:
I have better sweet treats in my repertoire now. —Alia A.
I will for sure move from Betty Crocker to real brownies. —Alison H.
Fun, informative, educational, and I learned new and improved methods. —Joe S.
Dates for the Class
Class Format
Price
Class Status
Register

Friday, March 19, 2021 - 4:00pm - 5:00pm EDT




Saturday, March 20, 2021 - 8:00am - 12:00pm EDT



Virtual

$85.00

4 spots left

Saturday, April 10, 2021 - 4:00pm - 5:30pm EDT




Sunday, April 11, 2021 - 9:00am - 1:00pm EDT



Virtual

$85.00

15 spots left