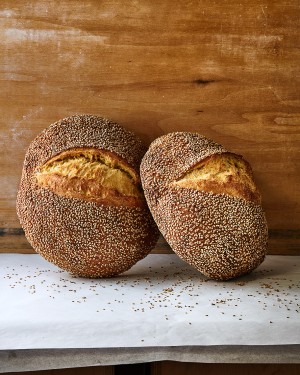 This class is being offered virtually. 
During this mini version of our popular Mambo Italiano: Italian Breads hands-on baking class, we'll take you on a brief bread-making journey through part of Italy. You'll experience fresh-baked Italian bread made from scratch including Zingerman's Bakehouse recipes for Focaccia and Sicilian Sesame Semolina. Go home with four loaves in all! And they taste even better when you've made them yourself!

Let's meet the Italian loaves of bread:

Focaccia —A tender flatbread topped with Parmigiano-Reggiano® cheese. It's a great bread to enjoy as an appetizer, to serve with spreads, or to make a sandwich with. Wait until you experience focaccia warm and fresh from your own. You might want to double the recipe at home to account for the imminent snack attack that's coming to a kitchen near you.

Sicilian Sesame Semolina —Meet the bread you didn't even know you needed in your life. Its claim to flavor fame is something to see, and taste of course. The entire loaf is rolled in unhulled sesame seeds before baking. The natural oil in all those seeds that cover the dough gets slowly roasted in the oven, contributing an intense flavor and aroma, not to mention a lovely little crunch. And that's just the crust! Inside there's a firm, rich, and almost cake-like crumb made with golden semolina flour yielding a beautiful yellow interior. The same flour is often used to make pasta.

Our Sicilian Sesame Semolina bread begs to be toasted, griddled, or broiled to turn the flavor dial up even higher. It loves to be paired with garlic butter, pesto, olive tapenade, or a sprinkle of good parmesan. Trust us, fellow bread lover, you want to give Sicilian Sesame Semolina a whirl.

Our Mini Mambo Italiano: Italian Bread class is an action-packed four hours of Italian bread baking guided by our experienced baking instructors. You'll cover all the essential techniques, including finding out what in the world a poolish is and why you need it to make these loaves of bread, how to handle yeasted doughs, proper kneading, shaping your loaves, finding out when your loaves are ready to bake, and more. You'll get plenty of hands-on practice.

After our baking experts demonstrate how to successfully execute these recipes before your very eyes, you'll try your hand at making them yourself. And our classes are small, 12 or fewer students, so our instructors can answer your individual questions. After practicing in that rich learning environment, you'll have the skills to bake these Italian breads at home any time you want. It could satisfy your cravings for both a fresh warm loaf of Italian bread and an Italian holiday at the same time.

You'll leave BAKE! with Zingerman's Bakehouse Italian bread recipes, the knowledge to recreate them at home, two rounds of Focaccia, two loaves of Sesame Semolina, and dough to make more Sesame Semolina bread at home later. 
What's Different When You Take This Class Virtually:
Please note that this is a two-day class. You will not have an extra dough in the virtual version of this class.
What our guests have to say about this class:
I was looking for bread baking tips and ended up learning tons. I've always been a big fan of baking and this class has inspired me to try baking different types of bread. —Zixuan W.
Fantastic class with just the right mix of art and science. —Bridget W.
Dates for the Class
Class Format
Price
Class Status
Register

Thursday, April 1, 2021 - 8:00pm - 9:00pm EDT




Friday, April 2, 2021 - 8:00am - 2:00pm EDT



Virtual

$85.00

14 spots left