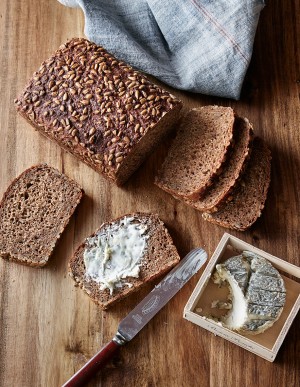 this class is being offered virtually.
While working with Eli and Tino of Dresdner Backhaus, a famous bakery in Dresden, Germany, we exchanged recipes and experience freely. Come and learn three breads our German friends taught us: hands-on mixing and shaping of our Original Dinkelbrot, a rye chop and sunflower seed loaf; a mixing demo and hands-on shaping of Wurzelbrot, a rye and wheat baguette; and hands-on mixing and shaping of Vinschgauer, a savory seasoned mountain roll delicious with ham and cheese. You might want to have some at home ready for your return from class! 
 
What's Different When You Take this Class Virtually: 
Please note that this class takes place over 2 days; On Day One, we will meet for 1.5 hours to mix our rye sour, make our soaker and our poolish, and answer any questions you might have. On Day Two, we will be baking! 
Please note that a stand mixer with a hook attachment is needed to make the wurzelbrot. 
What our guests have to say about this class:
Very thorough presentation. One of the best BAKE! classes I've taken. Taking home rye starter is a big plus! —Helen P.
Dates for the Class
Class Format
Price
Class Status
Register

Friday, March 12, 2021 - 4:00pm - 5:30pm EST




Saturday, March 13, 2021 - 8:00am - 2:00pm EST



Virtual

$85.00

5 spots left

Friday, April 23, 2021 - 4:00pm - 5:30pm EDT




Saturday, April 24, 2021 - 8:00am - 2:00pm EDT



Virtual

$85.00

13 spots left