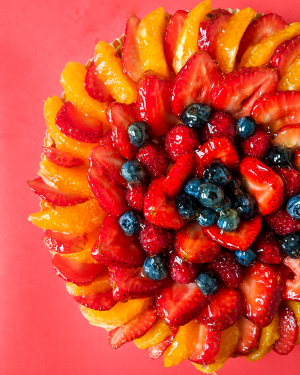 This class is being offered virtually. 
Fruit tarts are a favorite of food photographers because they look soooo sweet and fresh. When you see too many of them on the covers of glossy magazines, you start to get the idea that they're for experts only. Don't believe it. 
We'll show you how to make the sweet and tender pâte sucrée tart shells and rich vanilla pastry cream. Then we'll compose our tarts together, teaching you how to arrange the fruit in an artful way. Next time you see a succulent tart gracing the cover of Fine Cooking, you won't be fooled.  
In warmer months, we'll adorn our tarts with summer's bounty, from berries to stone fruits. In cooler months we'll bring a taste of sunshine to our tarts with a selection of citrus supremes.
What our guests have to say about this class:
Such a fun baking class. Instructors not only teach us, but give each one of us the time and attention to learn and practice. They all are very professional!!! —Jinny S.
Being able to practice new techniques in a class where I can get help & feedback gives me the confidence to try them at home. —Jane B.
Was so much fun! I have already told my mum we are coming back next year. —Bex S.
 
| Dates for the Class | Class Format | Price | Class Status | Register |
| --- | --- | --- | --- | --- |
| Sunday, April 18, 2021 - 2:00pm - 6:00pm EDT | Virtual | $60.00 | 8 spots left | |