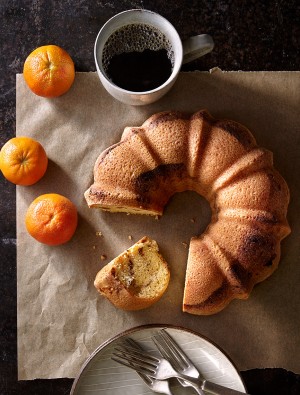 this class is being offered virtually. 
The secret is out! Learn the recipe for our signature Sour Cream Coffee Cake with ribbons of cinnamon brown sugar and toasted walnuts. It's a Bakehouse classic that graces the cover of our cookbook, Zingerman's Bakehouse (find it at most Zingerman's locations and wherever you buy books), not to mention that coffee cakes are our most popular Zingerman's Mail Order gift.

In this four-hour class, you'll also make a couple of other coffee cakes near and dear to us, the lovely olive oil and citrus cake and a rich almond pound cake. These are sure to be treasured recipes in your house for years to come! 
You'll leave the BAKE! class with our recipes, the knowledge to recreate them at home, and the three coffee cakes you made in class.
*Please note, you'll need a stand mixer with a paddle attachment for this class.
What our guests have to say about this class:
The quality of instruction is unsurpassed. This class taught us how to make the three most amazing cakes. I am very pleased to have these recipes and the knowledge to prepare them. Zingerman's is in the inspiration business—BAKE! classes never disappoint! —Dara K.
Family and friends think I'm a professional baker thanks to Zingerman's. —Randy T.
It is so fun, you learn a ton about the "whys" of baking (why certain ingredients, why a certain order, etc.), a ton of helpful tips & tricks, and sampling to boot! I have the urge to be more and more creative at home, trying things I never have before. —Lisa D.
Additional Products
Breezy Breakfasts Cookbooklet
What's for breakfast? Breezy Breakfasts, the second in our series of cookbooklets, celebrates classic baked breakfast fare we've been rustling up for nearly all of our history. The cookbooklet includes make-at-home recipes for 11 of our most favorite easy, breezy, quick-baked breakfast treats--muffins, scones, and porridges--plus 20 bread and garnish combinations to elevate your approach to toast. Shipping is included in the price of the cookbooklet.
| Dates for the Class | Class Format | Price | Class Status | Register |
| --- | --- | --- | --- | --- |
| Sunday, March 7, 2021 - 1:00pm - 5:00pm EST | Virtual | $75.00 | 10 spots left | |
| Sunday, April 18, 2021 - 1:00pm - 5:00pm EDT | Virtual | $75.00 | 13 spots left | |