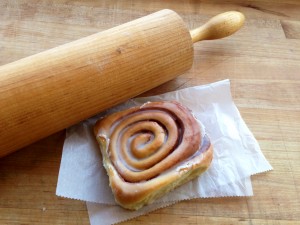 This class is being offered virtually. 
One of our most popular classes! Your family and house guests won't soon forget waking up to the aroma of butter, cinnamon, and brown sugar from freshly baked sweet rolls. Join us and find out how it's done. Learn the basic techniques of creating a sweet dough, including mixing, kneading and rolling, hand-shaping your rolls, and properly proofing them. We'll also demonstrate how to make pecan sticky buns, a staff favorite. Wait until you taste these warm from the oven in class!

You'll leave BAKE! with our recipes, the knowledge to recreate them at home, dough to bake at home later, a half dozen big cinnamon rolls, and a cinnamon roll wreath.
What's Different When You Take This Class Virtually:
Please note that this is a two-day class. You will have the option to make 2 of the 3 items: Cinnamon rolls, a sweet or savory braid, and Pecan Sticky Buns (you can make all three, you will just need ingredients to make more dough!)
What our guests have to say about this class:
I've been baking for years and have worked in a bakery—I just love learning new tricks I might not know. —Barb S.
The cinnamon rolls were as light as pillows and the taste was pure heaven. —Joyce S.
Such a nice experience! I don't have much baking experience and I loved every minute of it! —Jolie S.
This was my best class yet, out of probably a dozen. I love the versatility of what I can do with the dough. —Beth S.
Additional Products
Breezy Breakfasts Cookbooklet
What's for breakfast? Breezy Breakfasts, the second in our series of cookbooklets, celebrates classic baked breakfast fare we've been rustling up for nearly all of our history. The cookbooklet includes make-at-home recipes for 11 of our most favorite easy, breezy, quick-baked breakfast treats--muffins, scones, and porridges--plus 20 bread and garnish combinations to elevate your approach to toast. Shipping is included in the price of the cookbooklet.
Dates for the Class
Class Format
Price
Class Status
Register

Friday, March 12, 2021 - 9:00am - 12:30pm EST




Saturday, March 13, 2021 - 9:00am - 12:30pm EST



Virtual

$85.00

Sold out

Add me to the waitlist

Friday, March 19, 2021 - 9:00am - 12:30pm EDT




Saturday, March 20, 2021 - 9:00am - 12:30pm EDT



Virtual

$85.00

3 spots left

Friday, April 2, 2021 - 1:00pm - 4:30pm EDT




Saturday, April 3, 2021 - 1:00pm - 4:30pm EDT



Virtual

$85.00

12 spots left